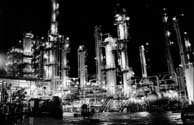 Our industrial activities are divided into two business lines. We are mastering the complete production cycle : study and design, manufacturing and distribution in France and worldwide.
Chemical Business

Our production is targeted exclusively to professionals in construction, agricultural, and institution-related businesses.

It is organised by product lines for surface maintenance and preparation, hygiene, disinfection and sanitation, mortar and concrete processing.

Engineering Business

Engineering, manufacturing and turnkey installations in the fields of petroleum, gas, and chemical engineering.

Our impressive CAD/CAM capabilities enable us to optimize and consolidate our complex achievements.